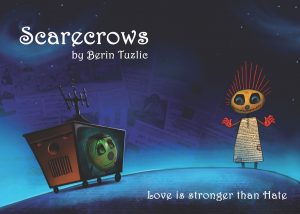 'Scarecrows (Love is stronger than hate)' is an Illustrated book for children and adults by Bosnian graphic novel/comic's author, musician, and animation director/producer Berin Tuzlic.
Set in a dystopian future where the media(s) control the world, it tells of a deformed girl with no friends and how she meets a boy trapped in a TV set. She wants to release him and play with him, but the media scarecrows attack from everywhere. Will the girl be able to fight off the scarecrows and release the entrapped boy? Can love win/overwhelm the hate in the media scarecrows and how can she fight them?
This wonderfully illustrated book holds a mature story however, the poetic approach to the narration, together with the naiveté and the fantastical futuristic set, result in a strange multi-layered hybrid that can be read both by children and adults. Fans of Tim Burton's universe will appreciate the visual treatment, rich in colour and expressionist atmosphere, while lovers of the written word will enjoy the originality and the unusual turn of story in each page.
BUY
'Scarecrows' is available in physical form from Amazon